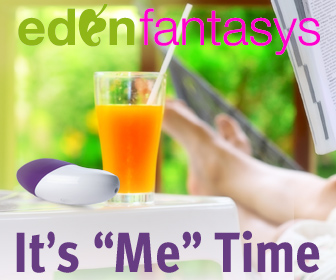 If you have read me before you'd know I'm a fan of Edenfantasys.com, the home for some super sassy and sexy stuff.  Yes, they have toys for women (and men) and lingerie but they have so much more.  I love their dresses.  They're super sexy and make me look so hot my husband almost doesn't want me to leave the house.  They also have cosmetics, luxurious bath and shower items and even books.  They're your one stop shop for all things sex.  For some reason there's a rumor going around in my hometown that I am actually on a sex site (small town, it's almost hilarious) but no, I simply write about one.
Anyway, this time around they actually sent me items to review.  I was anxious to see what they'd be sending along because to be honest, I don't particularly want to tell you about a vibrator I had to try out so I was well pleased when I saw some sexy lingerie and bath and body care items.  I'm on Accutane because my skin turned into crap so my whole body is a bit dry, not to mention it's winter so everything gets a little dry anyway and I didn't have anything for moisturizing my body in the tub.  God, my head hurts so bad today I want to go back in there now it was so good when I tried it out the other night.
The first thing I did was fill my tub with bubbles from the Sweet scape desserted island duo, a bubble bath and shower froth and hand cream.  It smells exactly like a Creamsicle. I usually only bathe when I feel like crap and when I do I make my bubbles by dumping my regular shower gel in there and those bubbles last all of about ten minutes so I was well pleased to see my tub fill with deliciously scented bubbles that made my skin feel SO SOFT.  My husband can attest to this because in the middle of my bath I said "Feel my butt.  It's so soft." and without hesitation he did and completely agreed.  In fact, he stayed in the bathroom for my entire bath.
We followed the bath with the lotion by both rubbing it on our hands to feel how soft it was and both agreed it left a soft, smooth feeling – nothing greasy to sticky.  While in the bath I used another product they gave me, Dona Body Wash.  This one was interesting.  As described on the site-
"If you're looking for a spa quality product that is safe for sensitive skin, then the Dona Body Wash is a must have. With six scents to select from, there's something for everyone. It's gentle enough for daily use, and it leaves your skin soft with a hint of fragrance. Why go to the spa when you can have the spa at home?!"
I got the 'camu camu' scent and I can't quite place what it reminds me of but it's not too strong and it claims to be
"an aphrodisiac infused ritual" which my husband and I had fun chatting about.  He grabs the bottle and starts reading off the side, "Paraban tree, cruelty tree, natural, petro deriv tree."  I was all like "What?" and I grabbed the bottle.  "FREE", I said, "Paraban FREE, cruelty FREE not tree." and we both had a hearty laugh as he pointed out he was in an angle that blocked the light and he was wondering where a cruelty tree came from.  He's adorable.
Following the bath it was time to try on some sassafras. Rawr.  I was sent a Beauty Boutique Blue Bra which is an underwire bra in sheer lace with crystal drop detail.  I actually liked the way it fit.  I typically wear bras from Victoria's Secret and I get the thickly padded support bras because I never cared to look all fancy under my shirt until now and I was pleasantly surprised to see that it not only gave me support but it was soft and lacy and none of my pink parts popped out.  I always get worried when I wear bras with a lot of cleavage thinking a boob is going to pop out but this is a bra I can wear to not only feel sexy but it actually good for a night out, especially if I was wearing a shirt that allowed a bra strap to show.  It's all fancy and blue.
Finally, I was sent something SUPER sassy, the Retro Bra and Panty with Ruffle Set.  Now I'm going to put a picture of it up that I'm getting from their website and mind you I look NOTHING like this model (I doubt she gave birth to two children) but I felt damn sexy in this outfit.
I know, right?  Never had kids.  No way.  Regardless, I looked pretty smokin' hot for a mother of two who happened to have one of them via C-section.  I loved the bow on the front and there was even a cute pink bow on the thong butt and both are removable if you for some reason wanted to wear it under your clothes.  This is really not a duo to do so with, it's simply meant for you and your partner's pleasure (mostly my partner, SCHWING!).  Again I was afraid I'd have nip-slip but I didn't.  Just barely but I didn't.  I usually feel like my stomach is hanging out all over the place when  I wear thongs but the design flattered my bottom, helping lead my night towards a "Lock the door and make sure the kids are asleep" night.  My husband has declared that out of every review I've done in the past four years, this was by far his favorite.  He highly suggests I do them more often.
Even during the time I quit blogging for a year we still bought from this website.  I started mentioning them years back in exchange for gift certificates but I've never been sent actual products to review.  They're a great site (although I wish they had more size medium, they tend to be out of stock sometimes) with a TON of promotions.  You can find a list of their current ones here.
You don't need to save all your sexy for Valentine's Day, you can feel sexy any night of the year by indulging in delectable bath delights, some playful toys and bath and body sets that will make you feel like a star!
Momspective Review Policy: The featured product for this review was provided to me, at no cost, by the manufacturer or representing PR agency for the sole purpose of product testing. I did not accept monetary compensation for reviewing or writing about products. I only review products that I have personally tested and used in my home, and all opinions expressed are my own.
8 Comments »
RSS feed for comments on this post | TrackBack URL | Create your avatar
---